CHEVROLET TRAVERSE REVIEWS & COMPARISONS
CHEVROLET TRAVERSE REVIEWS
CHEVROLET TRAVERSE VIDEOS
Detailed Walk Around for the 2020 Chevrolet Traverse
Testing the all-new Traverse from Chevy. In 2020, this SUV is all-new with incredible new tech and features that are loaded for driver comfort and control. This walk around takes many of the new features and performance stats that make the Traverse shine.
Detailed Analysis of the 2020 Chevrolet Traverse
This review highlights the amazing new features that are provided in the 2020 Traverse
CHEVROLET TRAVERSE COMPARISONS
Chevy SUVs: The latest Generation Traverse, Blazer, Equinox, Trax
All of these Chevy vehicles are offering amazing unique features, but determining which Chevy model is the best option for you and your family. The Traverse offers unrivaled seating and cargo space that goes unrivaled in its class.
Inspecting the Differences of the 2019 Chevy Blazer vs 2019 Chevy Equinox
Chevy is really breaking into the SUV market with a variety of amazing selections. However, choosing the best SUV to meet your needs can be a real challenge. With a variety of options and leading performers from Chevy, this video details two Chevy models and their unique qua...
ZIP CODES - NEAR PALATKA
32114

32117

32118

32124

32127

32128

32129

32207

32209

32216

32220

32254

32277

32211

32174

32208

32206

32080

32119

32137

32136

32176

32164

32218

32205
CITIES NEAR PALATKA
Daytona Beach
Port Orange
Jacksonville
Ormond Beach
St. Agustine
Palm Coast
Flagler Beach
ABOUT THE CHEVROLET TRAVERSE
Sitting comfortably in the upper portion of the midsize SUV charts, the all-new 2020 Chevrolet Traverse is a prime choice for drivers looking for a comfortable SUV. With a large cargo space and three sections of seating, there is plenty of space for all your most precious cargo and passengers.
CHEVROLET TRAVERSE TRIM COMPARISON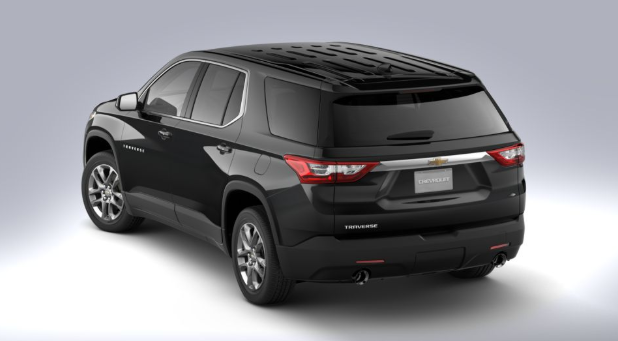 LS
• Entry Price$32,900
• Privacy From the Deep-tinted rear windows
• Bright Silver-painted aluminum 18-inch Wheels
• High visibility LED lighting group featuring headlights and LED daytime running lights
• Standardized 9-speed automatic transmission
• All-Terrain Traction Mode Select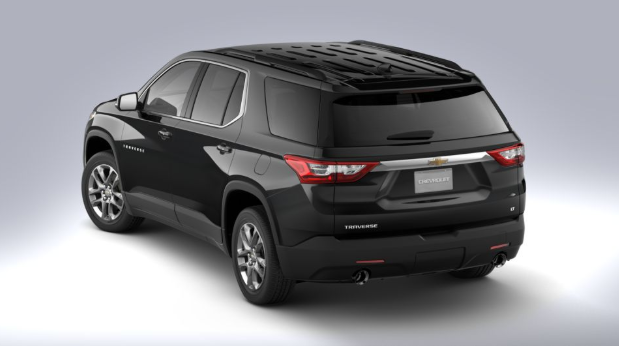 LT CLOTH
• Entry Price$35,400
• Seven or Eight Passenger Capacity given the chosen second row seating
• Fully Customizable 8-way Powered driver seating with poweredcontrolled lumbar
• High visibility LED lighting group featuring headlights and LED daytime running lightsRoof rails
• Body colored exterior mirrors with additional powered adjustment with additional turn signal indicators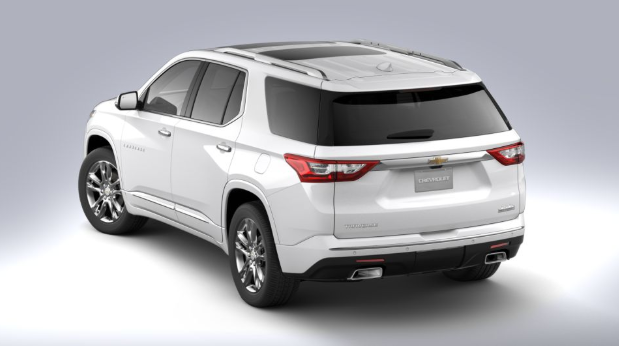 HIGH COUNTRY
• Entry Price $50,900 †
• Powered storage third row seats
• Headlight high beam assistance
• Premium Polished Aluminum 20-inch wheels
• Automated braking with adaptive cruise control
• Customizable sunroof and skylight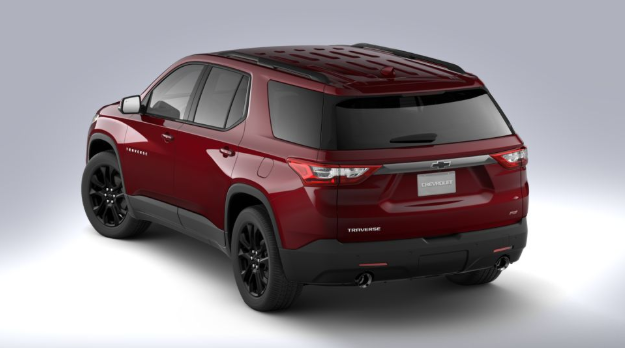 RS
• Entry Price $43,600
• Climate controlled seating
• Dark Android painted aluminum 20-inch Dark wheels
• Exterior Styling with Accents in black with black roof rails, bowtie logos, window trims, and front grille
• Full vehicle surround cameras and reverse camera
FREQUENTLY ASKED QUESTIONS
Q: What Qualities of the Chevy Traverse Stand out the Most?
A: The Traverse is an affordable people mover. If you are transporting family or carpooling, the three row seating offers plenty of space for all your passengers. The upgraded suspension and comfortable interior makes for an enjoyable ride.
Q: Why Is the Chevy Traverse a Good Purchase?
A: While many people are looking for smaller sized vehicles these days, not everyone can sacrifice the space and seating. Chevy is a class leader in SUV options, but the Traverse stands out especially due to its exciting new design and functionality upgrades.
Q: Is It Better to Buy the Chevy Traverse New or in Used Condition?
A: The Traverse is one of Chevy's newest lines of automobiles, coming into the North American market in 2018. As of 2020, Chevy has welcomed a variety of changes that makes the new Traverse much different than the original models. If you are looking for the latest tech and styling offered in the Traverse, then the new model will be best for your needs.
Q: What is the Base Price of the Chevy Traverse?
A: With a base pricing at $29,800, the Traverse is an average priced full-size SUV. While the Traverse is feature filled at the base model, there are many qualities that make the variety of trim options more expensive as the level of options increases.
ABOUT TOM GIBBS CHEVROLET - SALES DEPARTMENT
Your automotive needs are our first priority here at Tom Gibbs Chevrolet, conveniently located in Palm Coast, serving St. Augustine, Daytona Beach, Palatka, Flagler Beach and Ormond Beach. We house plenty of popular new Chevrolet vehicles which includes new Chevrolet Equinox, Silverado 1500, Trax, Colorado or Trailblazer, and we're sure you'll find the one that fits your needs. Looking to save on your purchase? There are many used car, truck or SUV options that fit within all budgets, and we have many to choose from!


REVIEWS
From our Palatka Customers
Phil Hambrecht 
Fast and concise . Wil use in the future for all my service needs.
Letty Comin 
Tom Gibbs Chevrolet is always a pleasure to deal with. Chris in the service department is extremely efficient and knowledgeable and always courteous and out of his way helpful. They have always accommodated me with either a ride or a loner vehicle while my vehicle has needed service. Honoreable, Trustworthy and fairly priced for the quality you receive. Truly a local Palm Coast gem for auto sales and service.Thank you for your 5 star review Letty! We appreciate your business and look forward to working with you again in the future. We'll pass the praise along to Chris Hancock as well - he's an asset to the dealership. Tommy Gibbs Tom Gibbs Chevy 386-793-3470
james Kirk 
Not living up to a customer experience as a U.S dealershipHey James Thank you for your review. We regret to hear that you didn't have the best experience. We don't want there to be any lingering confusion about the figures. Ultimately your payoff on your current car needs to be satisfied...the only way to do that is to roll the payoff over into the next vehicle loan. The payoff doesn't disappear, as much as you or I would want it to. Satisfying this payoff is the only way for a dealership to obtain the title to your car for resale. The $30,000+ in question is not just something that can be swept under a rug. Tommy Tom Gibbs Chevy
SharonLynn Evans 
My husband & I were thinking about buying a new car. Robert Kaufee came out to help us and did an amazing job. from the start with looking at the vehicles on the lot, all the way to signing the paperwork for our new Chevy. We have an very …Thank you so much for the nice review! We really appreciate this feedback and I'll be certain to share your compliments with Robert and the rest of the staff. We pride ourselves on offering high-quality customer service, and I'm glad we were able to take care of you. It was our pleasure! Sincerely, Tommy Gibbs, tommygibbs@tomgibbschevy.com
TOM GIBBS CHEVROLET - SALES HOURS
Monday08:00 - 19:00
Tuesday08:00 - 19:00
Wednesday08:00 - 19:00
Thursday08:00 - 19:00
Friday08:00 - 19:00
Saturday09:00 - 18:00
Sunday12:00 - 18:00