CHEVROLET BLAZER REVIEWS & COMPARISONS
CHEVROLET BLAZER REVIEWS
CHEVROLET BLAZER VIDEOS
1.Test Drive Review of the 2019 Chevrolet Blazer
Chevy has experessed that the new Blazers are not meant for off-road travels. This is a SUV that is completely designed to take on the elements of the paved roads. With performance based handling and a sports car design, the Blazer offers an exciting driving experience for t...
Complete Tour of the 2020 Chevrolet Blazer RS
This is the performance model of the Chevy Blazer. See here what makes this model unique from the other trim options. Find out why many people are flocking to the Blazer RS for a performance based SUV experience.
CHEVROLET BLAZER COMPARISONS
Chevy Comparison: Equinox Versus the Blazer 2019 Models- Chevy has a deep list of SUVs that all seem to offer similar sizes and features. How does the Blazer compare to the Equinox? Aside from the physical footprint of each vehicle, this comparison details the performance an...
2019 mid-size SUV comparison: Hyundai Santa Fe and the Chevy Blazer
Chevy has completely changed the Blazer from its original model. The new Chevy Blazer is made to provide exciting performance and power. The Santa Fe is a standard family hauler with commuting capabilities. Check out how the Blazer makes a name for itself in the market that ...
ZIP CODES - NEAR PALM COAST
32114

32124

32128

32136

32174

32177

32204

32206

32218

32219

32226

32277

32209

32117

32118

32119

32210

32216

32202

32220

32129

32164

32137

32127

32211
CITIES NEAR PALM COAST
Daytona Beach
Flagler Beach
Ormond Beach
Palatka
Jacksonville
Port Orange
Palm Coast
St. Agustine
ABOUT THE CHEVROLET BLAZER
The Blazer in 2020 makes a very unique statement. Combining performance Coupe styling with family functionality, the 2020 Blazer makes for a vehicle that expresses a unique personality. With amazing advancements from Chevy packed into the Blazer, new drivers will love the features that can be found inside. This vehicle offers one of the most feature filled interiors of its class.
CHEVROLET BLAZER TRIM COMPARISON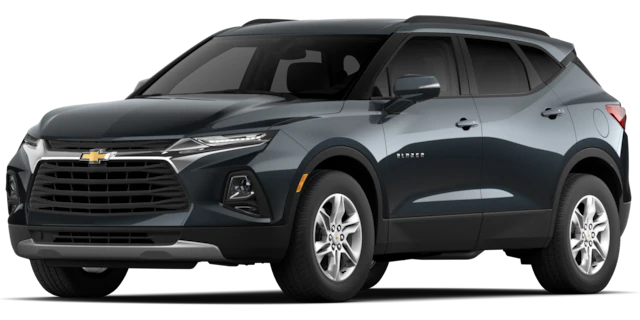 3LT
Starting at $37,000
Leather Upholstered Seating with climate Controlled Front Row Seating
The Four Wheel Drive Option allows for unrivaled towing capacity in its class when outfitted properly
Premier Safety Group
Turbo 2.0-liter engine with add-on four-wheel drive functionality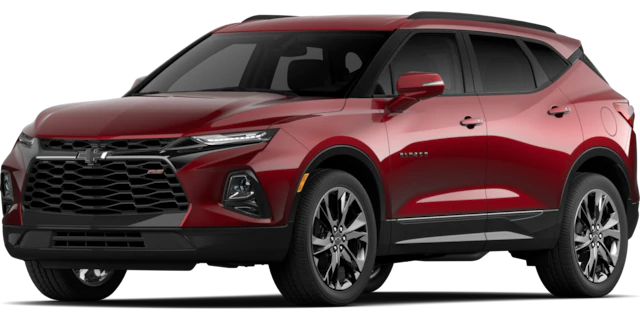 RS
Entry Price $40,600
3.6-liter high performance V6 engine with All wheel drive functionality
Trim Exclusive Black accents for the exterior, unique Chevy logo and badges
Trim Exclusive 20-inch wheels or add-on 21-inch wheels
Leather Upholstered Seating with climate Controlled Front Row Seating Featuring Red Accent Stitch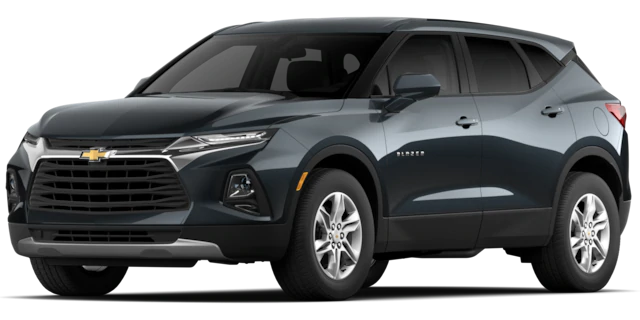 1LT
Entry Price $32,300
Add-on Premier Safety Group
Fine-Tuned 2.5-liter engine with nine speed automatic transmission Front Wheel Drive
Exclusive Chevy Infotainment Display with 8-inch touch enabled screen
Interior Styling from the cloth upholstered interior with climate controlled front row seating
L
Entry Price $28,800
Premium Aluminum 18-inch wheels
Exclusive Chevy Infotainment Display with 8-inch touch enabled screen
High Performance 2.5-liter engine with nine speed automatic transmission Front Wheel Drive
FREQUENTLY ASKED QUESTIONS
What is the price of Chevrolet Blazer?
The base 2020 Chevrolet Blazer L starts at $28,800, which is low for the midsize SUV class. The top-of-the-line Premier trim starts at $42,700. All-wheel drive costs an additional $2,000 to $2,900, depending on the trim.
Is Chevrolet Blazer available in Automatic Transmission?
The 2019 Blazer transmissions consist of the GM 9-speed automatic transmission, as follows: 2.5L LCV I-4 engine is mated to the 9T50 transmission (M3D)
Does the Chevy Blazer have Apple CarPlay?
Chevy has a good track record for offering easy-to-use infotainment systems, and the Blazer is no exception. Features like Apple CarPlay and Android Auto are standard, and notable add-ons include a Wi-Fi hot spot, wireless charging for smartphones and a powerful Bose audio system.
What are the top variants of Chevrolet Blazer?
The 2020 Chevrolet Blazer comes in four trims: L, LT, RS, and Premier. The LT trim has three sub-trims: 1LT, 2LT, and 3LT. The base L trim is a good pick for most shoppers since it has a solid amount of standard technology like Android Auto and Apple CarPlay.
ABOUT TOM GIBBS CHEVROLET - SALES DEPARTMENT
Your automotive needs are our first priority here at Tom Gibbs Chevrolet, conveniently located in Palm Coast, serving St. Augustine, Daytona Beach, Palatka, Flagler Beach and Ormond Beach. We house plenty of popular new Chevrolet vehicles which includes new Chevrolet Equinox, Silverado 1500, Trax, Colorado or Trailblazer, and we're sure you'll find the one that fits your needs. Looking to save on your purchase? There are many used car, truck or SUV options that fit within all budgets, and we have many to choose from!
REVIEWS
From our Palm Coast Customers
beach bum 
It took two trips to Tom Gibbs Chevrolet to get a flat tire fixed on my 2019 Chevrolet Colorado. The second time I got stuck with a tow charge. UPDATE: The owner quickly responded to my review and made things right. I appreciate the follow-up, so I'll return to Tom Gibbs Chevrolet for future service needs. Thanks!Thank you for your time on the phone Mr. Watkins! I'm glad we could get this issue resolved in a timely manner. Thank you again for being understanding and we appreciate your business. Thank you! Tommy Gibbs Tom Gibbs Chevy 386-793-3470
Jeff Boston 
Tom Gibbs Chevrolet is the best. My older brother is a Ford man, but I take after our old man - I'm a GM man. I am partial to Chevy models (Chevrolet - The Heartbeat of America!). Today I was helped by a friendly and helpful staff, …
Linwood Head 
Our experience with Yusef was great. We did not like the model we came in for so we inquired about an upgrade model and Yusef had one on the floor and it already had dealer installed items we wanted along with some extra items.We felt that …It's great to hear that you had a positive experience with Yusuf! Thank you for your business. Tommy Gibbs Tom Gibbs Chevy
Jaden M 
Corrin walked us through every step of the way, answered every phone call and question, as did Caleb. Would buy from here again and would recommend.Thank you for the positive review! It's great to hear that you had a memorable experience with our associate Corrin Baile. We hope you enjoy the new Chevy! Tommy Gibbs Tom Gibbs Chevy 386-793-3470
TOM GIBBS CHEVROLET - SALES HOURS
Monday08:00 - 19:00
Tuesday08:00 - 19:00
Wednesday08:00 - 19:00
Thursday08:00 - 19:00
Friday08:00 - 19:00
Saturday09:00 - 18:00
Sunday12:00 - 18:00
Chevrolet Blazer in Daytona-beach
 | 
Chevrolet Blazer in Flagler-beach
 | 
Chevrolet Blazer in Jacksonville
 | 
Chevrolet Blazer in Ormond-beach
 | 
Chevrolet Blazer in Palatka
 | 
Chevrolet Blazer in Palm-coast
 | 
Chevrolet Blazer in St-agustine