CHEVROLET BOLT EV REVIEWS & COMPARISONS
CHEVROLET BOLT EV REVIEWS
CHEVROLET BOLT EV VIDEOS
1. Affordability Meets The Future: Observing The Exciting New 2020 Bolt EV
The bolt EV from Chevrolet is updated with a new battery for additional range. How much difference does that added range amount to? Find out here in this exciting video.
2. Testing the Longevity of the Chevy Bolt Ev
This video goes into detail to describe the amazing longevity of the battery in the Chevy Bolt. One of the main concerns of electric cars at the moment is how do the batteries hold up after years of use? Many vehicles will lose their maximum charging capabilities. This user ...
CHEVROLET BOLT EV COMPARISONS
1. Testing Three leaders in the Electric Car Class
The Bolt EV goes up against the mainstream Model 3 and Nissan Leaf to see how it compares to newer entries in the class.
2. Head to Head Comparison of the Tesla Model 3 and Chevrolet Bolt
Two vehicles that are leaders in their class of new EVs. Both are a combination of form and function. How do the two models compare? Find out more in this amazing head to head video.
ZIP CODES - NEAR PALATKA
32118

32124

32127

32128

32204

32205

32207

32209

32216

32219

32210

32208

32119

32176

32277

32206

32174

32226

32129

32117

32254

32137

32164

32220

32202
CITIES NEAR PALATKA
Daytona Beach
Jacksonville
Ormond Beach
Port Orange
Palm Coast
St. Agustine
Flagler Beach
ABOUT THE CHEVROLET BOLT EV
2. The Bolt is able to handle anything you throw at it. Longer distance drives or short city commuting will not stop the Bolt from taking you places. The Bolt has a competitive range for EVs, offering nearly 300 miles on a full charge.
CHEVROLET BOLT EV TRIM COMPARISON
Premier
Entry Price $41,020
• Reverse Assistance Camera and Sensors
• Climate Controlled leather upholstered steering wheel
• Additional Driver Assist functions with Lane Change Alert with Side Blind Zone Alert
Main Attributes
• High Definition Screen Surround Vision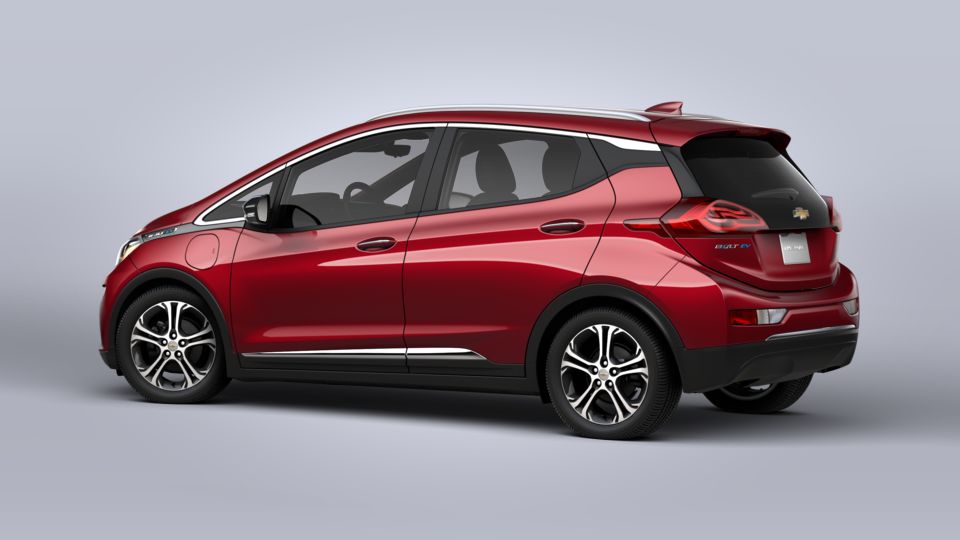 LT
Entry Price $36,620
Main Attributes
• Reverse Assistance Camera and Sensors
• Premium Michelin Energy Saver Durable All-Season tires
• Remote-less Entry
• Automated Electronic Precision Shifter
FREQUENTLY ASKED QUESTIONS
1. Is there regenerative braking in the Bolt EV?
With automatic braking features, the Bolt EV is outfitted with regenerative brakes that help recharge the battery when the vehicle is in use.
2. What is the fastest Method of Charging my Bolt EV at Home?
Plugging your bolt EV into a 240 volt power source will provide the fastest charging available in a home. This will recharge the battery at a rate of 24 miles per hour.
3. What Do I need to charge My Chevy Bolt at home?
The bolt comes with a power adaptor that is capable of charging in any home. For standard charging, you will not need any additional equipment aside from a working electrical outlet. If you are more interested in faster rate charging, then there are kits to install the 240 volt charging option.
4. How can I tell the amount of electricity is being used by my Bolt EV?
Chevy has made it very easy to see the energy consumption levels of your Bolt EV. Simply tune into the feature filled infotainment display to determine the average electricity use for your 2020 Bolt EV.
ABOUT TOM GIBBS CHEVROLET - SALES DEPARTMENT
Your automotive needs are our first priority here at Tom Gibbs Chevrolet, conveniently located in Palm Coast, serving St. Augustine, Daytona Beach, Palatka, Flagler Beach and Ormond Beach. We house plenty of popular new Chevrolet vehicles which includes new Chevrolet Equinox, Silverado 1500, Trax, Colorado or Trailblazer, and we're sure you'll find the one that fits your needs. Looking to save on your purchase? There are many used car, truck or SUV options that fit within all budgets, and we have many to choose from!
From our Palatka Customers
Ralph Smith 
service guy did a great job
Ken Rankin 
The tech found the problem with my brakes right away -ordered the parts, and fixed it quickly
Stacey Richardson 
We had a great experience with Bill buying a new car.It's great to hear you had a positive experience with our associate Bill! Your business is greatly appreciated and we thank you for taking the time to provide us with this feedback. Tommy Gibbs Tom Gibbs Chevy 386-793-3470
Susan Duby 
FANTASTIC!!! I called to inquire about a car and that I would be arriving in 30 minutes to test drive . When I arrived they had the car I was interested in pulled up and ready to go. Nelson was awesome, not pushy at all. Neil got right into working on my financing, discussing with me every step. The whole process took less than 2 hours from the test drive to driving it home. The free car washes and oil changes...........what a bonus!! They've got my business from now on! Thank you Nelson & Neil!Thank you for the positive review! We greatly appreciate the opportunity you gave us to work with you and we congratulate you on the vehicle purchase! Tommy Gibbs Tom Gibbs Chevy/Palm Coast Import Auto
TOM GIBBS CHEVROLET - SALES HOURS
Monday08:00 - 19:00
Tuesday08:00 - 19:00
Wednesday08:00 - 19:00
Thursday08:00 - 19:00
Friday08:00 - 19:00
Saturday09:00 - 18:00
Sunday12:00 - 18:00
Chevrolet Bolt EV in Daytona-beach
 | 
Chevrolet Bolt EV in Flagler-beach
 | 
Chevrolet Bolt EV in Jacksonville
 | 
Chevrolet Bolt EV in Ormond-beach
 | 
Chevrolet Bolt EV in Palatka
 | 
Chevrolet Bolt EV in Palm-coast
 | 
Chevrolet Bolt EV in St-agustine