CHEVROLET CORVETTE Z06 REVIEWS & COMPARISONS
CHEVROLET CORVETTE Z06 REVIEWS
CHEVROLET CORVETTE Z06 VIDEOS
What Makes the updated Corvette C8 The most exciting Car of 2020?
Take a closer look into the updated Corvette line going in to its eighth generation. The new Corvette offers amazing performance and a modern style that reflects those of advanced supercars.
First Drive of the New 2020 Corvette Stingray C8- Corvette shocked the automotive world with their updated interior for the 2020 C8 model. This vehicle is not only redesigned physically, but the driving platform from Chevy and GM has been drastically updated to reflect the m...
CHEVROLET CORVETTE Z06 COMPARISONS
LaFerrari Takes on the Brand New Corvette C8
The 2020 C8 Edition of the Corvette Breaks Barriers
It is hard to compare the C8 Corvette to any other vehicle at its price point, as the updated Corvette for 2020 offers advanced features that no other automaker could guarantee.
ZIP CODES - NEAR FLAGLER BEACH
32080

32128

32137

32176

32202

32205

32206

32207

32254

32219

32129

32119

32277

32211

32209

32204

32210

32117

32218

32127

32216

32114

32208

32124

32220
CITIES NEAR FLAGLER BEACH
St. Agustine
Daytona Beach
Palm Coast
Ormond Beach
Jacksonville
Port Orange
Palatka
ABOUT THE CHEVROLET CORVETTE Z06
Your Car is Your Domain The new Corvette C8 is designed to be a car that will meet any needs. With complete customization, any driver will enjoy a wide range of upgrades and personalization touches.
CHEVROLET CORVETTE Z06 TRIM COMPARISON
Entry Price $66,200†
●Camera in the Front to detect oncoming curb when driving at low speed
●Fully climate controlled seating and steering wheel
●Upgradeable Napa leather-upholstered seating
●Performance Premium Speaker group with 14 Bose speakers
3LT
●Range of 13 Premium interior Accent Colors
●Premium interior upgrade featuring Suede upholstered upper interior detailing
●Napa Leather upholstery seating
●Trim Exclusive leather upholstered instrument cluster and door cover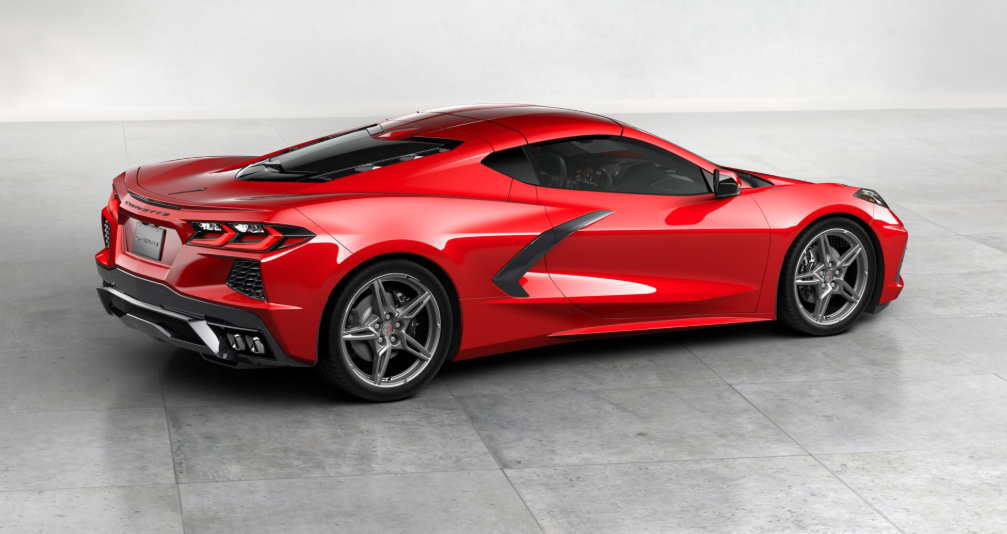 2020 CORVETTE STINGRAY RWD Coupe 1LT
Entry Price $58,900†
●High-performance all-season tires
●Deluxe Surround Sound 10 speaker system from Bose
●Smart Drive Mode Selection
●Premium Powered fully Adjustable Seating
FREQUENTLY ASKED QUESTIONS
What Is the Corvette Body Made of?
Chevy has always made the body of the Corvette from hand laid fiberglass or machine pressed fiberglass construction. Many people wonder if the Corvette body was made of metal at any point, but the performance based body of the Corvette has always been molded from fiberglass. Fiberglass is low weight and high performance to allow for top speeds and acceleration that make for an unrivaled driving experience.
Does the Frame of A Corvette Experience Rusting?
The frame of a Corvette is not immune to rust. Even though the vehicle is not made from metal or steel, the fiberglass body is not immune to rusting. Over time, the Corvette design team has introduced body production upgrades that influence the rusting and wear of the Corvette. The new C8 line is built to last.
Where is the Corvette Produced?
All modern Corvettes are produced in Bowling Green, Kentucky. Chevy wants to ensure that their flagship performance model is always produced in the United States to make a name for American performance cars and their capabilities.
What is the Release Date and Price of the Base Corvette C8 model?
The new C8 line of Corvettes has already begun production. The new line of performance vehicles is meant to begin sales around March or April, but due to current events, widespread release may be delayed. The entry price of the base model Corvette starts at $59,995 and will increase as more options and higher trim levels are selected.
ABOUT TOM GIBBS CHEVROLET - SALES DEPARTMENT
Your automotive needs are our first priority here at Tom Gibbs Chevrolet, conveniently located in Palm Coast, serving St. Augustine, Daytona Beach, Palatka, Flagler Beach and Ormond Beach. We house plenty of popular new Chevrolet vehicles which includes new Chevrolet Equinox, Silverado 1500, Trax, Colorado or Trailblazer, and we're sure you'll find the one that fits your needs. Looking to save on your purchase? There are many used car, truck or SUV options that fit within all budgets, and we have many to choose from!
REVIEWS
From our Flagler Beach Customers
rgt1541 
Dealt with Robert Kaufman who is a great guy. They are very honest and easy to work with. They are efficient & willing to help you in any way they can. My only complaint was that there was a lot of sitting around waiting for things to get done. They were very busy every time we came up there and we spent a lot of time just sitting around.
Kevin Cox 
Service friendly and excellent as usual.Thanks for your review Kevin! Your repeat business over all these years is unmatched. We greatly appreciate your support for the dealership and look forward to continue working with you on the sales and service sides of the dealership. Thank you! Tommy Gibbs Tom Gibbs Chevy 386-793-3470
Marty L 
I worked with Matt here at Tom Gibbs Chevy and I have to say that they are absolute professionals. I sold a car to them and it was quick, easy, and a fair price. The dealership was clean and they have a lot of nice cars on the lot. I highly recommend car shopping here.
Rebecca Morell 
We had a great experience at Tom Gibb Chevrolet. The team was friendly, efficient and patient to help us purchase on a new vehicle. They answered all of our questions and went above and beyond to make sure we were happy and comfortable. As …
TOM GIBBS CHEVROLET - SALES HOURS
Monday08:00 - 19:00
Tuesday08:00 - 19:00
Wednesday08:00 - 19:00
Thursday08:00 - 19:00
Friday08:00 - 19:00
Saturday09:00 - 18:00
Sunday12:00 - 18:00
Chevrolet Corvette Z06 in Daytona-beach
 | 
Chevrolet Corvette Z06 in Flagler-beach
 | 
Chevrolet Corvette Z06 in Jacksonville
 | 
Chevrolet Corvette Z06 in Ormond-beach
 | 
Chevrolet Corvette Z06 in Palatka
 | 
Chevrolet Corvette Z06 in Palm-coast
 | 
Chevrolet Corvette Z06 in St-agustine