CHEVROLET SILVERADO 1500 REVIEWS & COMPARISONS
CHEVROLET SILVERADO 1500 REVIEWS
CHEVROLET SILVERADO 1500 VIDEOS
The Chevy Silverado is a beast on the road: Test Drive
The new 2020 Silverado 1500 is a leader in price and performance for its class. With the straightforward work truck trim to more luxurious allaround performer models, Chevy has provided amazing options for truck lovers. If you are in need of a workhorse or just want to have ...
Hands on review of the 2020 Chevy Silverado 1500 LT
With a new stylized front grill, the Silverado design for 2020 stands out more and more. The Silverado line has always been one of the most recognizable trucks in the market, and Chevy still continues to surprise with amazing upgrades to the exterior and interior.
CHEVROLET SILVERADO 1500 COMPARISONS
High Tech Trucks: Comparison of the Highest Trims of the Silverado and Ram 1500 Models
Two light-duty trucks battle it out, but not in the way you would expect. The leading truck models are outfitted with exciting new upgrades that make each truck unique in its own right. Find out how these trucks perform head to head in a battle of luxury and class.
2020 Comparison of the Silverado 1500 and Ram 1500
This buyers guide expresses the unique features of these two vehicles and the amazing functionality that comes with owning either of them. Find out which one works best for your needs!
ZIP CODES - NEAR PALATKA
32080

32117

32118

32119

32136

32174

32205

32206

32218

32219

32220

32277

32114

32209

32124

32129

32204

32164

32254

32137

32226

32210

32208

32127

32211
CITIES NEAR PALATKA
St. Agustine
Daytona Beach
Flagler Beach
Ormond Beach
Jacksonville
Port Orange
Palm Coast
ABOUT THE CHEVROLET SILVERADO 1500
The vast amount of customizable features and unique exterior styling makes the Silverado 1500 a stand-out option for trucks in 2020. With various engine, exterior, seating, tech, and luxury options, take full control of customizing your Silverado 1500 to meet your wants and needs.
CHEVROLET SILVERADO 1500 TRIM COMPARISON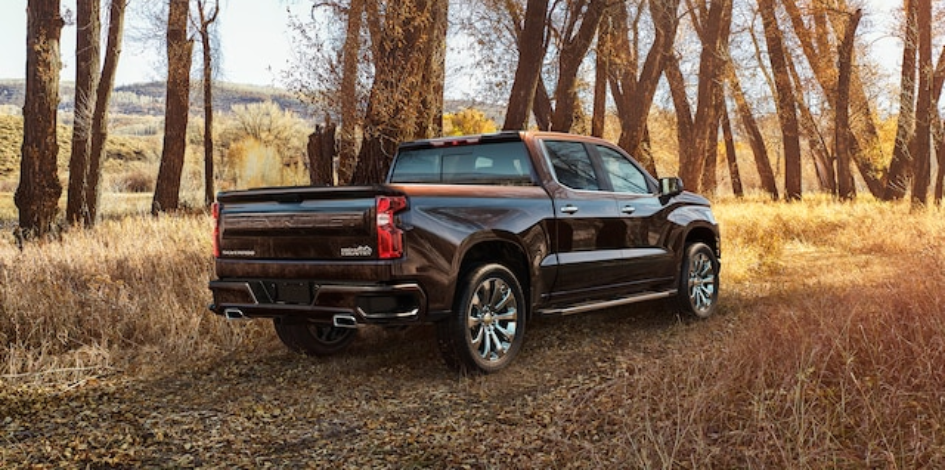 High Country
• Entry Price: $53,300
• Leading design power controlled tailgate
• Trim Unique Front grille and center bar with Added Styling 2-tone Bronze and Chrome finish
• Painted aluminum, machine faced 20-inch wheels
• High visibility Premium LED lighting group headlights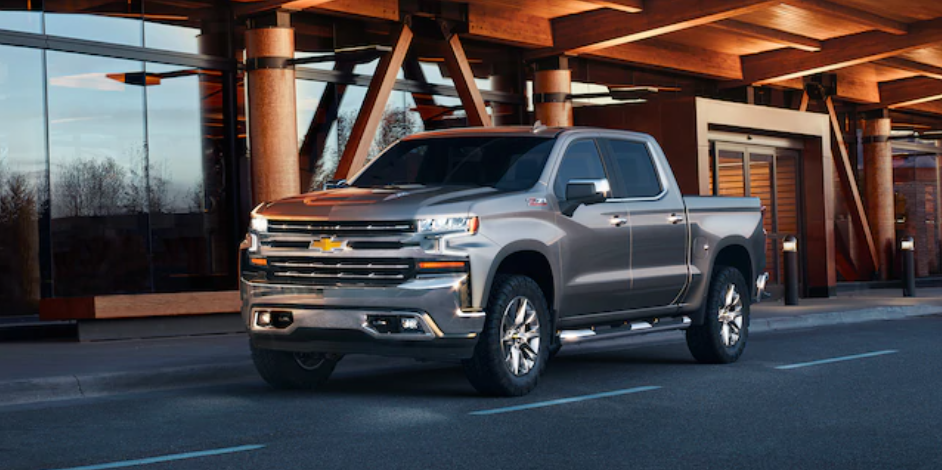 LTZ
• Entry Price $43,000
• Exterior Upgrade Featuring Accent Chrome front grille, center bar, bumpers, premium mirror caps, door handles and beltline accents
• Leather upholstered perforated front seats
• All new trailer-hitching functionality
• Bright Silver Painted Aluminum 18-inch wheels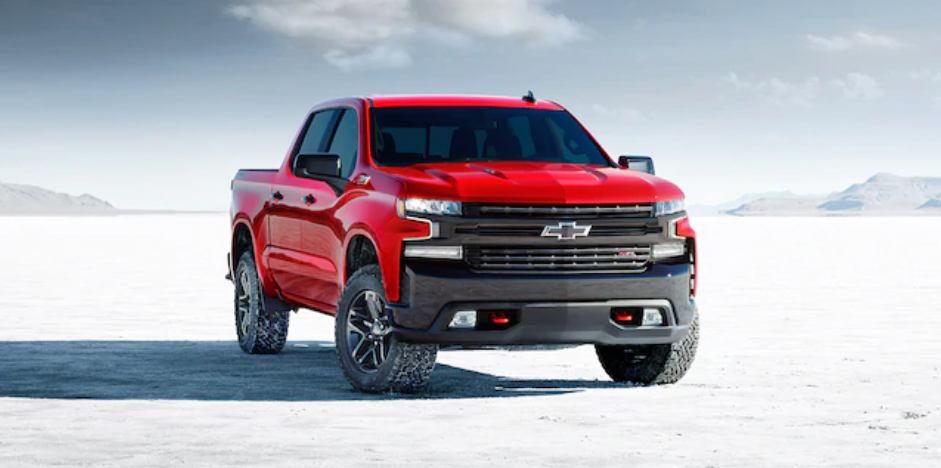 LT Trail Boss
• Entry Price $48,500
• Gloss Black Painted Aluminum 18-inch outfitted in premium Goodyear Wrangler DuraTrac® all-terrain tire set
• Premium manufacturer Autotrac® 2-speed transfer casing
• Leather upholstered steering wheel, Push to start, Keyless entry, and durable all weather interior floor mats
• Z71 off-roading bundle including a OEM 2-inch suspension lift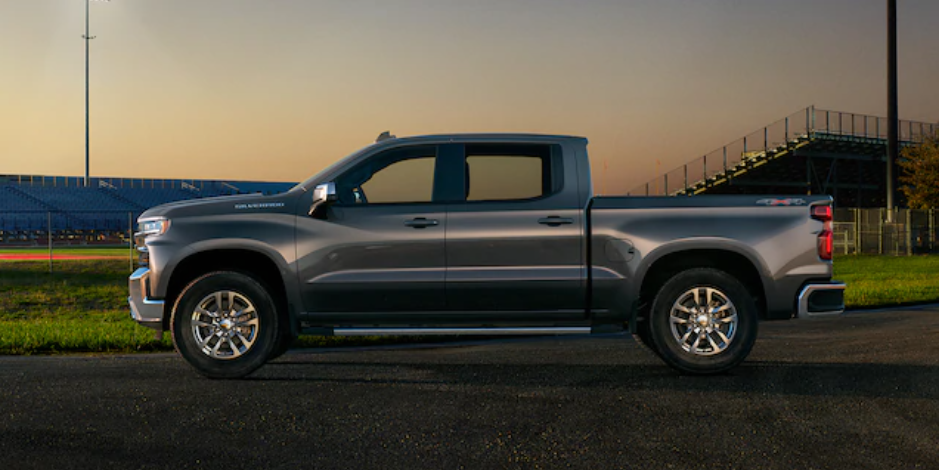 LT
• Entry Price $36,900 †
• Silver Painted Aluminum 17-inch wheels
• Exterior Upgrade Featuring Accent Chrome front grille, center bar, bumpers, and premium mirror caps
• 8-inch Infotainment Screen with Touch Functionality
• Premium high visibility LED lighting group headlights with LED signature daytime running lighting
FREQUENTLY ASKED QUESTIONS
Q: What makes the Chevrolet Silverado 1500 A Stand Out Truck in Its Class?
The performance evaluations of the Chevy Silverado makes it a top performer in its class. With competitive towing and hauling capabilities, the Chevy Silverado will provide workability that benefits any driver. With advanced engine options, drivers will enjoy a speedy truck with handling like a sports car.
Q: What are the Dimensions and Curb Weight of the base 2020 Chevrolet Silverado 1500
The length of the base Silverado 1500 is 19 ft, 1.5 in. The Height is 6ft, 3.5 in. The Curb Weight is 4,474 pounds.
Q: Why Should I Consider Purchasing a Chevrolet Silverado 1500?
A:In an ever-growing class of feature-filled full-size trucks, the all new Silverado will provide customizability and performance that makes it the best in its class. With leading towing and hauling rates and engine options, the Silverado 1500 is a perfect choice for a variety of work needs or personal needs.
Q: What is the Base Price of the Chevy Silverado 1500?
A:If you are interested in buying a new 2020 Chevy Silverado 1500, you will find that the base price of the lowest trim level begins at $28,300. This is an average price level in its class, but Chevy has added additional features and performance tunes that makes the Silverado a stand-out option. The eight trim options and variety of cab and bed sizes will increase the price depending on your selections.
ABOUT TOM GIBBS CHEVROLET - SALES DEPARTMENT
Your automotive needs are our first priority here at Tom Gibbs Chevrolet, conveniently located in Palm Coast, serving St. Augustine, Daytona Beach, Palatka, Flagler Beach and Ormond Beach. We house plenty of popular new Chevrolet vehicles which includes new Chevrolet Equinox, Silverado 1500, Trax, Colorado or Trailblazer, and we're sure you'll find the one that fits your needs. Looking to save on your purchase? There are many used car, truck or SUV options that fit within all budgets, and we have many to choose from!


REVIEWS
From our Palatka Customers
Betty Raney 
This was the most pleasant car purchase that I have ever had! No pressure at all! Great staff from start to finish. My salesman Matt was just awesome! Highly recommend him!Thank you for the review Betty! No pressure sales is what we do best! Glad to hear you had a positive experience with Matt Souza. We hope to work with you again in the future, and in the meantime we hope you enjoy the new Chevy! Tommy Gibbs Tom Gibbs Chevy 386-793-3470
Stefanie Abrams 
Went Into Tom Gibbs with little hope of leaving in a vehicle. To my surprise I did, and I felt leaving confident and excited at the purchase made! I am truly amazed at the experience I had! Keith was my salesman, he was amazing! I never felt pressured, he was laid back and so knowledgeable! We are true to the Chevy brand, and will gladly continue to make the 40 minute drive to come and deal with Keith, and the fabulous team at the dealership!Thank you for your review Stefanie! We are glad to hear you had a no-pressure purchase experience with Keith. Thank you for your business! Tommy Gibbs Tom Gibbs Chevy 386-793-3470
Courtney Farrelly 
Keith was a well professional gentleman!! I would highly recommend asking for him, when you buy a car from Tom Gibbs or even have questions. He doesn't try to sugar coat or convince you in a car you really don't want. He seems to take great pride in what he does!! Best car salesman I have meet.Thank you for your review Courtney! It's great to hear that you had a positive purchase experience with Keith Ray. Thank you for your business! Tommy Gibbs Tom Gibbs Chevy 386-793-3470
Ernie Cosenza 
Our Sales Person, Doug Miller was very professional, patient and worked with us through the process.
TOM GIBBS CHEVROLET - SALES HOURS
Monday08:00 - 19:00
Tuesday08:00 - 19:00
Wednesday08:00 - 19:00
Thursday08:00 - 19:00
Friday08:00 - 19:00
Saturday09:00 - 18:00
Sunday12:00 - 18:00
Chevrolet Silverado 1500 in Daytona-beach
 | 
Chevrolet Silverado 1500 in Flagler-beach
 | 
Chevrolet Silverado 1500 in Jacksonville
 | 
Chevrolet Silverado 1500 in Ormond-beach
 | 
Chevrolet Silverado 1500 in Palatka
 | 
Chevrolet Silverado 1500 in Palm-coast
 | 
Chevrolet Silverado 1500 in St-agustine