CHEVROLET IMPALA REVIEWS & COMPARISONS
CHEVROLET IMPALA REVIEWS
CHEVROLET IMPALA VIDEOS
Is this the last look at the Impala? Review of the 2020 model from Chevy
Even though Chevy has been riding on the success of the Impala for over 60 years, they are finally bringing the full-size sedan to an end. Take a last look at the Impala with Chevy's 2020 model.
The Sad End to the impala Line from Chevy
There are not many vehicles that can boast 10 generations. The impala is one of the longest running models in the full-size sedan class. There is a nice interior that is filled with new technology and addition leg and headroom for all passengers.
CHEVROLET IMPALA COMPARISONS
Inspecting the Differences Between the 2019 Impala and the Recently Announced Final Model Year Impala for 2020
High Speed Comparison Between Honda and Chevy: Accord and the Impala
ZIP CODES - NEAR FLAGLER BEACH
32128

32129

32137

32164

32176

32177

32207

32211

32216

32254

32277

32205

32219

32202

32208

32114

32174

32119

32218

32117

32206

32226

32220

32209

32210
CITIES NEAR FLAGLER BEACH
Daytona Beach
Port Orange
Palm Coast
Ormond Beach
Palatka
Jacksonville
St. Agustine
ABOUT THE CHEVROLET IMPALA
Since 2014, the Impala is considered a class leader in price and performance. For those looking for a budget friendly full size sedan, look no further than the most recent generation of the Chevy Impala.
CHEVROLET IMPALA TRIM COMPARISON
2020 IMPALAFWD LT
Starting Price: $32,495 †
High Quality six-speed automatic Transmission system
• Variable Valve Timing
• Maximum factory 305 horsepower
Premium 3.6 Liter V6 Engine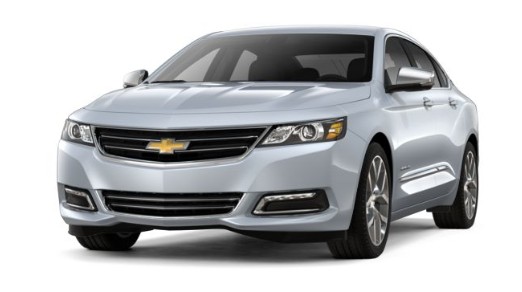 2020 IMPALAFWD Premier
STARTING PRICE $37,595 †
• Variable Valve Timing
Premium 3.6 Liter V6 Engine
Key Attributes:
• High Quality six-speed automatic Transmission system
• Maximum factory 305 horsepower
FREQUENTLY ASKED QUESTIONS
What makes the Chevrolet Impala a Great Choice for me?
If you are looking for a sedan that is considered full-size and is capable of seating more passengers with class and comfort, then the Impala from Chevy is the best choice for you. With an upgraded infotainment display and new technological features, the Impala is one of Chevy's most technically advanced vehicles in their lineup.
Is the Impala from GM/Chevy Discontinued?
Due to the rising demand of vehicles outside of its class, Gm has decided to focus on creating more models in the crossover class. This means that the Impala model will be discontinued as of 2020. The Impala is one of Chevy's most impressive cars, but the falling demand of this model means that it will cease production.
Is there a 2021 model year for the Chevy Impala?
The last generation of Impalas from Chevy ends in 2020. They may brand this model with a 2021 name plate, but do not expect further models to be produced after this most recent model year. They have entirely discontinued the Impala line.
Does Chevrolet have Plans to Replace the Impala Lineup?
There is no discussion of the follow-up model to the Chevrolet Impala. Currently, Chevy is planned to put a stop to the Impala line and focus on making new crossover models instead.
ABOUT TOM GIBBS CHEVROLET - SALES DEPARTMENT
Your automotive needs are our first priority here at Tom Gibbs Chevrolet, conveniently located in Palm Coast, serving St. Augustine, Daytona Beach, Palatka, Flagler Beach and Ormond Beach. We house plenty of popular new Chevrolet vehicles which includes new Chevrolet Equinox, Silverado 1500, Trax, Colorado or Trailblazer, and we're sure you'll find the one that fits your needs. Looking to save on your purchase? There are many used car, truck or SUV options that fit within all budgets, and we have many to choose from!
REVIEWS
From our Flagler Beach Customers
vaughn vytlacil 
In an effort to do our part for the economy, we decided to take advantage of Tom Gibbs Chevrolet's current rebate offers on the the 2020 Equinox. We have purchased from Tom Gibbs previously and get our cars serviced here. We had a good buying experience in 2013 when we bought a Sonic Sedan. When we arrived we were met by Sales Associate Anatoliy who immediately pointed us in the right direction. After trying out a couple of models and speaking with Anatoliy concerning the differences between the engines, we settled on the 1.5L 4-cylinder Turbo Equinox Premier. He sent us to the exact car in the color and trim we wanted. Anatoliy went through all of the features and we were ready to negotiate. Within a very short period of time our trade-in was valued fairly based on our research. We negotiated our offer with Anatoliy and finalized with Jack the sales manager within a very short period of time also. Caleb clearly explained and finalized all documentation and we were elated to be the owners of a new Equinox. The entire experience was by far the best of any car buying experience we have had in the past due to the knowledge and professionalism of all of the people we met at Tom Gibbs. It is evident that the culture and work ethic of the entire group is the goal of this dealership. Well done!!! We will be back for our next vehicle.Thank you so much for the positive review Vaughn! It's great to hear that you had a positive experience with the whole team -- Anatoliy, Jack, and Caleb. We greatly appreciate your business and working with the local dealership. We hope you get many enjoyable miles out of the new Chevy Equinox! Tommy Gibbs Tom Gibbs Chevy 386-793-3470
Brian Miller 
Keith did a great job answering all of my questions. The process was fast and easy. They delivered our new truck to the house and picked up our trade in!
Tom Nally 
Outstanding service by salesperson Keith W Ray helping us into a 2019 Equinox PR.Congratulations on the recent purchase Tom! It's great to hear that you had an A+ experience with Keith Ray! Tommy Gibbs Tom Gibbs Chevy 386-793-3470
Robert McClure 
Second time buyer at this location,Yusuf was great to work with, kept us informed through the whole process, got a great car!Thank you for your repeat business Mr. McClure. Your positive review is much appreciated and we hope you enjoy the new Chevy! Tommy Gibbs Tom Gibbs Chevy 386-793-3470
TOM GIBBS CHEVROLET - SALES HOURS
Monday08:00 - 19:00
Tuesday08:00 - 19:00
Wednesday08:00 - 19:00
Thursday08:00 - 19:00
Friday08:00 - 19:00
Saturday09:00 - 18:00
Sunday12:00 - 18:00
Chevrolet Impala in Daytona-beach
 | 
Chevrolet Impala in Flagler-beach
 | 
Chevrolet Impala in Jacksonville
 | 
Chevrolet Impala in Ormond-beach
 | 
Chevrolet Impala in Palatka
 | 
Chevrolet Impala in Palm-coast
 | 
Chevrolet Impala in St-agustine