CHEVROLET IMPALA REVIEWS & COMPARISONS
CHEVROLET IMPALA REVIEWS
CHEVROLET IMPALA VIDEOS
Is this the last look at the Impala? Review of the 2020 model from Chevy
Even though Chevy has been riding on the success of the Impala for over 60 years, they are finally bringing the full-size sedan to an end. Take a last look at the Impala with Chevy's 2020 model.
The Sad End to the impala Line from Chevy
There are not many vehicles that can boast 10 generations. The impala is one of the longest running models in the full-size sedan class. There is a nice interior that is filled with new technology and addition leg and headroom for all passengers.
CHEVROLET IMPALA COMPARISONS
Inspecting the Differences Between the 2019 Impala and the Recently Announced Final Model Year Impala for 2020
High Speed Comparison Between Honda and Chevy: Accord and the Impala
ZIP CODES - NEAR JACKSONVILLE
32124

32127

32128

32137

32177

32202

32207

32210

32216

32218

32220

32176

32206

32164

32254

32136

32277

32204

32114

32080

32211

32174

32129

32119

32208
CITIES NEAR JACKSONVILLE
Daytona Beach
Palm Coast
Palatka
Jacksonville
Ormond Beach
Flagler Beach
St. Agustine
Port Orange
ABOUT THE CHEVROLET IMPALA
The Impala from Chevy has been around since the early 1950's. Since its initial release in the United States, the vehicle has consistently been one of the bestselling full size sedans on the market. Due to changes in consumer tastes and market structure. Chevy has finally announced the discontinuation of the Impala in 2020.
CHEVROLET IMPALA TRIM COMPARISON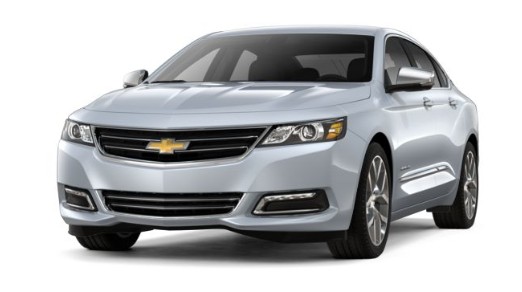 2020 IMPALAFWD Premier
STARTING PRICE $37,595 †
• Variable Valve Timing
• High Quality six-speed automatic Transmission system
Key Attributes:
• Maximum factory 305 horsepower
Premium 3.6 Liter V6 Engine
2020 IMPALAFWD LT
Starting Price: $32,495 †
Premium 3.6 Liter V6 Engine
• Maximum factory 305 horsepower
• Variable Valve Timing
Key Attributes
FREQUENTLY ASKED QUESTIONS
What makes the Chevrolet Impala a Great Choice for me?
If you are looking for a sedan that is considered full-size and is capable of seating more passengers with class and comfort, then the Impala from Chevy is the best choice for you. With an upgraded infotainment display and new technological features, the Impala is one of Chevy's most technically advanced vehicles in their lineup.
Is the Impala from GM/Chevy Discontinued?
Due to the rising demand of vehicles outside of its class, Gm has decided to focus on creating more models in the crossover class. This means that the Impala model will be discontinued as of 2020. The Impala is one of Chevy's most impressive cars, but the falling demand of this model means that it will cease production.
Is there a 2021 model year for the Chevy Impala?
The last generation of Impalas from Chevy ends in 2020. They may brand this model with a 2021 name plate, but do not expect further models to be produced after this most recent model year. They have entirely discontinued the Impala line.
Does Chevrolet have Plans to Replace the Impala Lineup?
There is no discussion of the follow-up model to the Chevrolet Impala. Currently, Chevy is planned to put a stop to the Impala line and focus on making new crossover models instead.
ABOUT TOM GIBBS CHEVROLET - SALES DEPARTMENT
Your automotive needs are our first priority here at Tom Gibbs Chevrolet, conveniently located in Palm Coast, serving St. Augustine, Daytona Beach, Palatka, Flagler Beach and Ormond Beach. We house plenty of popular new Chevrolet vehicles which includes new Chevrolet Equinox, Silverado 1500, Trax, Colorado or Trailblazer, and we're sure you'll find the one that fits your needs. Looking to save on your purchase? There are many used car, truck or SUV options that fit within all budgets, and we have many to choose from!
REVIEWS
From our Jacksonville Customers
Brandon O'Hara 
My wife has now purchased 2 cars from Keith Ray here and the experience is always fantastic. Keith has a no-nonsense approach to selling and he really has his customers' best interest in mind. I was so impressed that I actually went in there this weekend and ended up trading my F-150 in for a newer Silverado. I couldn't be happier!Brandon, Your great feedback truly made our day! We work incredibly hard to exemplify our commitment to customer care and I am glad that our team was able to show you what we strive to deliver. We look forward to making sure that you and your wife enjoy your cars for many years to come. Sincerely, Tommy Gibbs, tommygibbs@tomgibbschevy.com
derek bennett 
I live more than 100 miles from this dealership and this is the 3rd car I have bought which sums up this fine dealership. Very professional staff and NO pressure. Actually a nice experience buying from Tom Gibbs Chevrolet. Yusuf Abdullah is a fine trustworthy salesman.
Domonique Youmans 
I'm here to say my husband and I had the best experience purchasing our new vehicle at Tom Gibbs Chevy! Keith Ray was the best from the beginning all the way to the end. I would highly recommend anyone looking for a new vehicle to give him a call!Thank you so much for your positive review Domonique! We greatly appreciate your business and we're glad to hear Keith Ray showed you a memorable experience. Thank you for your business, we hope you enjoy the new vehicle! Tommy Gibbs Tom Gibbs Chevy 386-437-3314
Joseph Gazdzik 
Corrin Baile is an excellent auto sales professional. She took great care of me before and after the sale of my 2020 Chevy Equinox. I also received an extra $500.00 off during the sales closing. Thanks, Corrin!!
TOM GIBBS CHEVROLET - SALES HOURS
Monday08:00 - 19:00
Tuesday08:00 - 19:00
Wednesday08:00 - 19:00
Thursday08:00 - 19:00
Friday08:00 - 19:00
Saturday09:00 - 18:00
Sunday12:00 - 18:00
Chevrolet Impala in Daytona-beach
 | 
Chevrolet Impala in Flagler-beach
 | 
Chevrolet Impala in Jacksonville
 | 
Chevrolet Impala in Ormond-beach
 | 
Chevrolet Impala in Palatka
 | 
Chevrolet Impala in Palm-coast
 | 
Chevrolet Impala in St-agustine