CHEVROLET TAHOE REVIEWS & COMPARISONS
CHEVROLET TAHOE REVIEWS
CHEVROLET TAHOE VIDEOS
Reviewing the New 2020 Chevy Tahoe- Check out an exciting look at the new model year Chevy Tahoe and all of the advanced features this family SUV has to offer.
Closer look At the Tahoe from Chevy
This is a Nice Review and Explanation of the deluxe features that are found in the brand new Chevy Tahoe 2020 version.
CHEVROLET TAHOE COMPARISONS
Comparing Chevy's Flagship Full-Size SUVs
Performance Based Full-Size SUVs: Dodge Durango R/T and The Chevy Tahoe RST- The Chevy Tahoe is a vehicle that comes with a variety of sport and performance upgrades. Take a look at how this Tahoe RST takes on the performance model of the Dodge Durango.
ZIP CODES - NEAR FLAGLER BEACH
32127

32137

32204

32210

32218

32226

32277

32080

32209

32174

32118

32114

32220

32219

32216

32176

32129

32205

32117

32202

32211

32164

32254

32177

32128
CITIES NEAR FLAGLER BEACH
Daytona Beach
Palm Coast
Jacksonville
St. Agustine
Ormond Beach
Port Orange
Palatka
ABOUT THE CHEVROLET TAHOE
The best without a doubt Chevy has revitalized the Tahoe for the 2020 and 2021 model years to make for a bold statement. The Tahoe is a family favorite SUV that provides slick lines and creature comforts. The blend of technology and upscale design makes for a stylish piece to add to any family. The Tahoe is one of the bestselling full size SUVs due to its revolutionary blend of form and function.
CHEVROLET TAHOE TRIM COMPARISON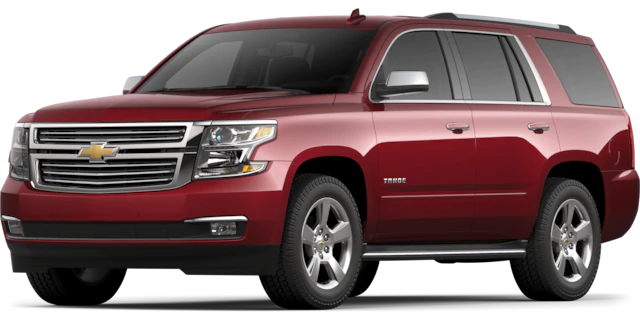 2020 Chevrolet Tahoe LS
Entry Price $49, 000
●Second and third row seating that fold entirely flat for additional cargo space
●multi-zone climate control
●5.3 Liter V8 Engine with class leading fuel economy
●8-inch infotainment display with touch capability
2020 Chevrolet Tahoe LT
Entry Price $53,800
●Climate Controlled Front Captain's Chairs
●Powered Rear Trunk Gate
●Leather Upholstered Seating
●Advanced Driver assist Tools
2020 Chevrolet Tahoe Premier
Entry Price $62, 700
●Optional 6.2 Liter V8 Engine
●Premium 20-inch wheels
●Forward and Reverse Parking Sensors and Cameras
●Lane Changing Assistance Features
FREQUENTLY ASKED QUESTIONS
1.What is the Average Lifespan of a Chevy Tahoe?
If you take proper care of a Chevy Tahoe, it will take good care of you. There are many qualities about the new Chevy Tahoe that makes it a long lasting car. There are many reports of Chevy Tahoe models lasting over 250,000 miles or more. Taking proper maintenance measures will ensure that your Tahoe can live a long life.
2.What makes the Chevy Tahoe a Great Choice for me?
The Tahoe is an all-around performer. With two available V8 engine option and additional optional features, this is an SUV that can be completely customized to meet your family's needs.
3.How is the Chevy Tahoe Different From the GMC Yukon?
There is some additional tuning to the Yukon's engine, offering it more horsepower and a little extra class and comfort. The Chevy Tahoe comes in at a slightly lower price across all trims.
4.What is the Difference Between the Tahoe and the Suburban?
There is some additional room in the Suburban that the Tahoe does not have. The Suburban is longer and weighs more, but provides additional room for the third row of passengers.
ABOUT TOM GIBBS CHEVROLET - SALES DEPARTMENT
Your automotive needs are our first priority here at Tom Gibbs Chevrolet, conveniently located in Palm Coast, serving St. Augustine, Daytona Beach, Palatka, Flagler Beach and Ormond Beach. We house plenty of popular new Chevrolet vehicles which includes new Chevrolet Equinox, Silverado 1500, Trax, Colorado or Trailblazer, and we're sure you'll find the one that fits your needs. Looking to save on your purchase? There are many used car, truck or SUV options that fit within all budgets, and we have many to choose from!


REVIEWS
From our Flagler Beach Customers
Corey Bullard 
Rarely have I experienced a business with the ability to take what would normally have been a 1 star review and turn it into a 5 star one. I will not go into details about how things started out for me but rather focus on the importance of …
Terry LeBlanc 
Just bought a 2020 Chevrolet Bolt Premier at Tom Gibbs Chevrolet in Palm Coast Florida. The experience went very well. The salesman provided all the help he could and helped with the initial setup of the various items in the car like Onstar initialization. I was given a reasonable price compared to other dealers I checked with. I'm happy with the car so far and would definitely buy here again.Thank you for your positive review Terry! We hope you get many enjoyable miles out of the new Chevy Bolt! Tommy Gibbs Tom Gibbs Chevy 386-793-3470
Daniel Crafton 
We have had 2 transactions with this dealership within the last month. I will say it is the best car sales experience of my life. Tommy and Caleb are some of the most professional individuals I have ever come across in my life. Nice guys, …
vaughn vytlacil 
In an effort to do our part for the economy, we decided to take advantage of Tom Gibbs Chevrolet's current rebate offers on the the 2020 Equinox. We have purchased from Tom Gibbs previously and get our cars serviced here. We had a good …Thank you so much for the positive review Vaughn! It's great to hear that you had a positive experience with the whole team -- Anatoliy, Jack, and Caleb. We greatly appreciate your business and working with the local dealership. We hope you get many enjoyable miles out of the new Chevy Equinox! Tommy Gibbs Tom Gibbs Chevy 386-793-3470
TOM GIBBS CHEVROLET - SALES HOURS
Monday08:00 - 19:00
Tuesday08:00 - 19:00
Wednesday08:00 - 19:00
Thursday08:00 - 19:00
Friday08:00 - 19:00
Saturday09:00 - 18:00
Sunday12:00 - 18:00