CHEVROLET TAHOE REVIEWS & COMPARISONS
CHEVROLET TAHOE REVIEWS
CHEVROLET TAHOE VIDEOS
Reviewing the New 2020 Chevy Tahoe- Check out an exciting look at the new model year Chevy Tahoe and all of the advanced features this family SUV has to offer.
Closer look At the Tahoe from Chevy
This is a Nice Review and Explanation of the deluxe features that are found in the brand new Chevy Tahoe 2020 version.
CHEVROLET TAHOE COMPARISONS
Comparing Chevy's Flagship Full-Size SUVs
Performance Based Full-Size SUVs: Dodge Durango R/T and The Chevy Tahoe RST- The Chevy Tahoe is a vehicle that comes with a variety of sport and performance upgrades. Take a look at how this Tahoe RST takes on the performance model of the Dodge Durango.
ZIP CODES - NEAR JACKSONVILLE
32114

32118

32119

32124

32174

32177

32202

32207

32209

32210

32254

32128

32080

32220

32164

32136

32205

32218

32216

32127

32211

32208

32277

32219

32206
CITIES NEAR JACKSONVILLE
Daytona Beach
Ormond Beach
Palatka
Jacksonville
St. Agustine
Palm Coast
Flagler Beach
Port Orange
ABOUT THE CHEVROLET TAHOE
Large and In Charge A new driving platform equips the Tahoe with a variety of new standard safety features. Enjoy a variety of technological advancements for driver assistance and safety functionality that will keep both you and your passengers safe at all times.
CHEVROLET TAHOE TRIM COMPARISON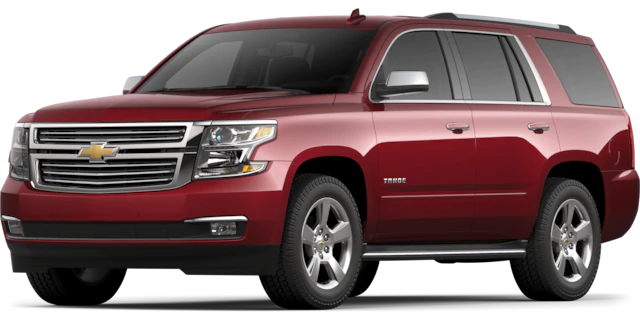 2020 Chevrolet Tahoe LS
Entry Price $49, 000
●multi-zone climate control
●8-inch infotainment display with touch capability
●Second and third row seating that fold entirely flat for additional cargo space
●5.3 Liter V8 Engine with class leading fuel economy
2020 Chevrolet Tahoe LT
Entry Price $53,800
●Advanced Driver assist Tools
●Leather Upholstered Seating
●Powered Rear Trunk Gate
●Climate Controlled Front Captain's Chairs
2020 Chevrolet Tahoe Premier
Entry Price $62, 700
●Lane Changing Assistance Features
●Forward and Reverse Parking Sensors and Cameras
●Premium 20-inch wheels
●Optional 6.2 Liter V8 Engine
FREQUENTLY ASKED QUESTIONS
1.What is the Average Lifespan of a Chevy Tahoe?
If you take proper care of a Chevy Tahoe, it will take good care of you. There are many qualities about the new Chevy Tahoe that makes it a long lasting car. There are many reports of Chevy Tahoe models lasting over 250,000 miles or more. Taking proper maintenance measures will ensure that your Tahoe can live a long life.
2.What makes the Chevy Tahoe a Great Choice for me?
The Tahoe is an all-around performer. With two available V8 engine option and additional optional features, this is an SUV that can be completely customized to meet your family's needs.
3.How is the Chevy Tahoe Different From the GMC Yukon?
There is some additional tuning to the Yukon's engine, offering it more horsepower and a little extra class and comfort. The Chevy Tahoe comes in at a slightly lower price across all trims.
4.What is the Difference Between the Tahoe and the Suburban?
There is some additional room in the Suburban that the Tahoe does not have. The Suburban is longer and weighs more, but provides additional room for the third row of passengers.
ABOUT TOM GIBBS CHEVROLET - SALES DEPARTMENT
Your automotive needs are our first priority here at Tom Gibbs Chevrolet, conveniently located in Palm Coast, serving St. Augustine, Daytona Beach, Palatka, Flagler Beach and Ormond Beach. We house plenty of popular new Chevrolet vehicles which includes new Chevrolet Equinox, Silverado 1500, Trax, Colorado or Trailblazer, and we're sure you'll find the one that fits your needs. Looking to save on your purchase? There are many used car, truck or SUV options that fit within all budgets, and we have many to choose from!


REVIEWS
From our Jacksonville Customers
Kerri Sharples 
Thank you so much for making my buying experience a good one! I have been shopping for trucks for months. Tom Gibbs Chevrolet is by far, the best dealership I've ever dealt with! The staff is very nice and professional not to mention very prompt when communicating. I'm so happy with my new Silverado!! Thank you!Thank you for the purchase Kerri. It's always our goal to make a vehicle purchase as convenient as possible and I'm glad to hear our internet department was able to deliver in this instance. Hope you enjoy the new truck! Tommy Gibbs Tom Gibbs Chevy 386-793-3470
barry latham 
Always a pleasure at TOM GIBBS CHEVROLET. Neil Austin, Natasha Gibbs, worked tirelessly all this year to find a new Chevrolet Equinox for me. Tom Gibbs upgraded my appraisal, even upgraded my model for the midnight blue i chose. Sales person Yusef asked if he could help whenever he saw me. Thank you Tom Gibbs Chevrolet. Dealership is a safe place to do business during this pandemic. When you walk through the door you come first. What a team!!Thank you so much for your review Barry. You are always a pleasure to work with. I'm glad Neil, Natasha, and the rest of the team were able to find you the right Equinox and the right deal. We appreciate your continuing business and look forward to working with you again in the future! Tommy Gibbs Tom Gibbs Chevy
Phil Wagner 
Bryant and Kyle were awesome! Very smooth, fast transaction.Thank you for the review Phil. We appreciate you making the trip from Gainesville to give us the opportunity to work with you. Thank you for your purchase and we hope you enjoy the new diesel Silverado! Tommy Gibbs Tom Gibbs Chevrolet
Harry Palmer 
The entire experience was great, Mr Hash was knowledgeable, very helpful, and cared about my wants in finding the right vehicle for my needs. The financial department was quick and easy to deal with, and got my payments manageable with low …
TOM GIBBS CHEVROLET - SALES HOURS
Monday08:00 - 19:00
Tuesday08:00 - 19:00
Wednesday08:00 - 19:00
Thursday08:00 - 19:00
Friday08:00 - 19:00
Saturday09:00 - 18:00
Sunday12:00 - 18:00