CHEVROLET TRAVERSE REVIEWS & COMPARISONS
CHEVROLET TRAVERSE REVIEWS
CHEVROLET TRAVERSE VIDEOS
Detailed Walk Around for the 2020 Chevrolet Traverse
Testing the all-new Traverse from Chevy. In 2020, this SUV is all-new with incredible new tech and features that are loaded for driver comfort and control. This walk around takes many of the new features and performance stats that make the Traverse shine.
Detailed Analysis of the 2020 Chevrolet Traverse
This review highlights the amazing new features that are provided in the 2020 Traverse
CHEVROLET TRAVERSE COMPARISONS
Chevy SUVs: The latest Generation Traverse, Blazer, Equinox, Trax
All of these Chevy vehicles are offering amazing unique features, but determining which Chevy model is the best option for you and your family. The Traverse offers unrivaled seating and cargo space that goes unrivaled in its class.
Inspecting the Differences of the 2019 Chevy Blazer vs 2019 Chevy Equinox
Chevy is really breaking into the SUV market with a variety of amazing selections. However, choosing the best SUV to meet your needs can be a real challenge. With a variety of options and leading performers from Chevy, this video details two Chevy models and their unique qua...
ZIP CODES - NEAR ORMOND BEACH
32080

32124

32174

32202

32210

32211

32216

32219

32220

32254

32277

32176

32118

32207

32218

32129

32127

32128

32209

32177

32164

32114

32226

32119

32117
CITIES NEAR ORMOND BEACH
St. Agustine
Daytona Beach
Ormond Beach
Jacksonville
Port Orange
Palatka
Palm Coast
Flagler Beach
ABOUT THE CHEVROLET TRAVERSE
The Traverse is designed specially to keep the driver and precious passengers safe at all times. New safety groups outfit the 2020 Traverse with various new safety features and driver assistance functions. Make use of the new camera and sensor systems that will make your drive safer and more controlled.
CHEVROLET TRAVERSE TRIM COMPARISON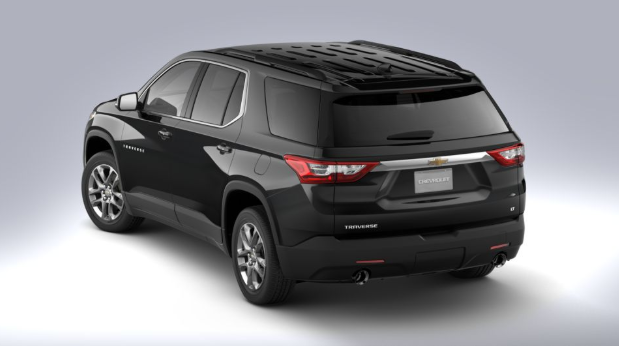 LT CLOTH
• Entry Price$35,400
• Fully Customizable 8-way Powered driver seating with poweredcontrolled lumbar
• Seven or Eight Passenger Capacity given the chosen second row seating
• Body colored exterior mirrors with additional powered adjustment with additional turn signal indicators
• High visibility LED lighting group featuring headlights and LED daytime running lightsRoof rails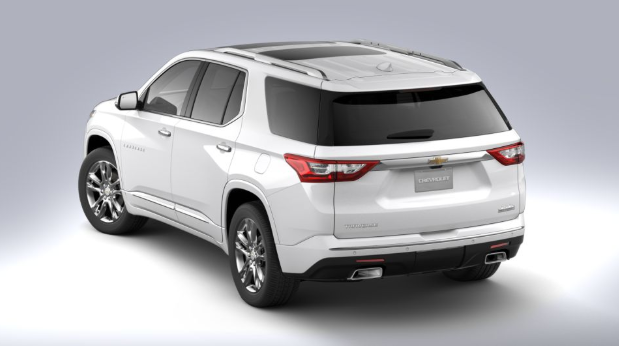 HIGH COUNTRY
• Entry Price $50,900 †
• Automated braking with adaptive cruise control
• Powered storage third row seats
• Customizable sunroof and skylight
• Premium Polished Aluminum 20-inch wheels
• Headlight high beam assistance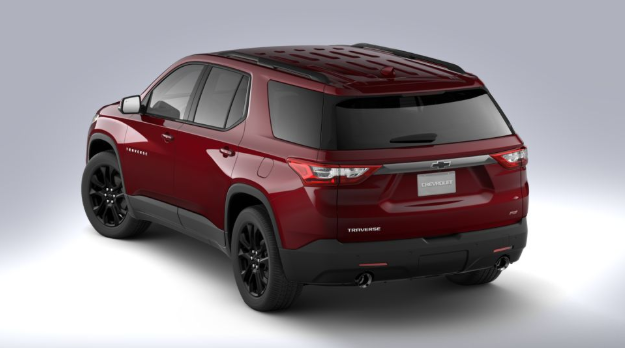 RS
• Entry Price $43,600
• Exterior Styling with Accents in black with black roof rails, bowtie logos, window trims, and front grille
• Climate controlled seating
• Full vehicle surround cameras and reverse camera
• Dark Android painted aluminum 20-inch Dark wheels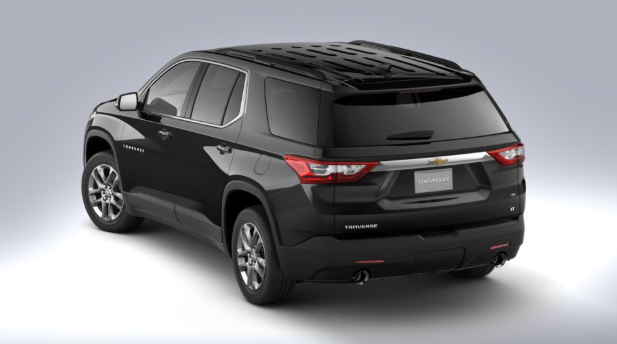 LT LEATHER
• Entry Price $39,100 †
• Seven or Eight Passenger Capacity given the chosen second row seating
• Reverse Camera and Rear Cross Traffic Sensors
• Additional Driver Assist with Lane Change sensors and blind spot detection
• 8-inch Touch screen infotainment display
• Fully powered rear trunk gate
FREQUENTLY ASKED QUESTIONS
Q: What Qualities of the Chevy Traverse Stand out the Most?
A: The Traverse is an affordable people mover. If you are transporting family or carpooling, the three row seating offers plenty of space for all your passengers. The upgraded suspension and comfortable interior makes for an enjoyable ride.
Q: Why Is the Chevy Traverse a Good Purchase?
A: While many people are looking for smaller sized vehicles these days, not everyone can sacrifice the space and seating. Chevy is a class leader in SUV options, but the Traverse stands out especially due to its exciting new design and functionality upgrades.
Q: Is It Better to Buy the Chevy Traverse New or in Used Condition?
A: The Traverse is one of Chevy's newest lines of automobiles, coming into the North American market in 2018. As of 2020, Chevy has welcomed a variety of changes that makes the new Traverse much different than the original models. If you are looking for the latest tech and styling offered in the Traverse, then the new model will be best for your needs.
Q: What is the Base Price of the Chevy Traverse?
A: With a base pricing at $29,800, the Traverse is an average priced full-size SUV. While the Traverse is feature filled at the base model, there are many qualities that make the variety of trim options more expensive as the level of options increases.
ABOUT TOM GIBBS CHEVROLET - SALES DEPARTMENT
Your automotive needs are our first priority here at Tom Gibbs Chevrolet, conveniently located in Palm Coast, serving St. Augustine, Daytona Beach, Palatka, Flagler Beach and Ormond Beach. We house plenty of popular new Chevrolet vehicles which includes new Chevrolet Equinox, Silverado 1500, Trax, Colorado or Trailblazer, and we're sure you'll find the one that fits your needs. Looking to save on your purchase? There are many used car, truck or SUV options that fit within all budgets, and we have many to choose from!


REVIEWS
From our Ormond Beach Customers
michael simser 
By far the greatest place to deal for a car or truck. I have purchased two 2500 pickups LTZ from Tom Gibbs Chevy and a Malibu Premier. All three experiences were actually enjoyable! With sales personal like Hank Bustler you can relax and believe what is being explained. I have experience in trading my trucks: 1998, 2000, 2002, 2004, 2006, 2008, 2010, 2012, 2014, 2017, and now a 2020 all Chevy both gas and Duramax! At 72 this may be my last, or who knows maybe another visit to Tom Gibbs Chevy!
Michele Jangie-Cruz 
Great people to deal with here. My husband and I went into their smaller lot a couple of weeks ago to purchase a truck that I found online. I was back and forth with Neil Austin through email before hand. I asked a lot of questions and he …
Barbara Bergquist 
Service people are courteous and helpful. Service was fast and efficient.
Ron Carstens 
Yusuf was very helpful in finding the car we wanted even though he had to find one at another dealer and get it for us. Thanks for your help!
TOM GIBBS CHEVROLET - SALES HOURS
Monday08:00 - 19:00
Tuesday08:00 - 19:00
Wednesday08:00 - 19:00
Thursday08:00 - 19:00
Friday08:00 - 19:00
Saturday09:00 - 18:00
Sunday12:00 - 18:00